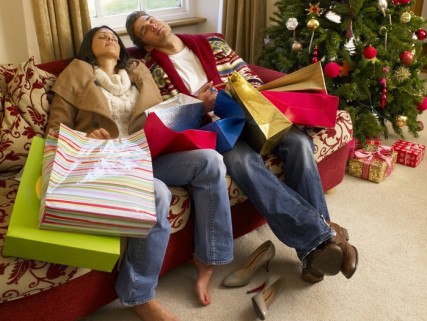 The holiday season can be a time of stress and overwhelm for some couples.
For couples who are in long distance relationships, it can be even more so. You might wonder why that is. Wouldn't they be excited to spend more time together? The answer is complicated, but having strategies for managing the holidays will ensure a more enjoyable time. Here are 5 ways to shift your mood this holiday season from "Oh no!" to "Ho Ho Ho!"
1. Manage expectations by planning a realistic holiday schedule
Late December through New Year's Eve finds many people taking vacation days to spend with family and friends. If you have been separated for long periods of time or typically only see each other on the weekends, you both may have a long list of what you'd like to do during that time off. For people who super commute or travel often for business, their ideal vacation might be lounging around the house watching movies or getting together with friends they rarely have time to see. For the spouse who is home managing kids and household responsibilities, they may want to escape to a spa or need help with projects that have been put off most of the year. And here in lies the problem. Each has their own ideas about how that vacation time should be spent and so tip number one is to manage expectations. Making assumptions is an easy way to get into conflict so I recommend taking 30 minutes in early December to plan out the family calendar until the end of the year. Each person, and the kids too, can make a list of how they would like to spend that time. Then, see how it fits together. Does one week have you out every night and no time to relax? Did you plan a date night or two? How many obligations are ones you feel like you "should" do vs. really wanting to? Can you say no to a few of those this year?
2. Cook a meal together
A great way to connect, have fun, and learn is to cook together as a family. I suggest choosing at least one night during your holiday to plan, shop, and make a meal together. If one person tends to do the majority of the cooking on a regular basis, assign them something easy. If you have children, this is a great opportunity to teach them life skills such as healthy meal planning, how to grocery shop (what to look for in produce, price comparison), math skills (fractions via measuring cups, addition or multiplication for meal servings), chemistry (baking soda makes batter rise when mixed with certain ingredients like milk), team work, and the pride of making a delicious meal. You could pick a theme for the meal, Italian or Chinese dishes, or tie it to a movie you might watch after dinner. French food followed by Ratatouille, for example. While eating, you can take turns asking each other questions from Table Topic cards. These cards pose interesting questions and come in a variety of themes including Family, Couples, and What Would You Do. However you decide to come together, a night of reconnecting ideally will produce lots of fun memories and maybe even start a yearly tradition.
3. Give and get great gifts the low-stress way
Leisure time is at a premium for most people, but especially so for super commuters and their families. Giftster.com and its app allow you to create private groups accessible from computers or smart phones where each person can post their wish list and even include links to where to buy the items. You can also use the site to organize a Secret Santa group and avoid duplicate gift giving. How does this help? First off, you save time! No need to drive from store to store or browse website-to-website trying to guess what your loved ones would like. No standing in line, no battling for parking spaces, no standing in even longer return lines when you get the same sweater from 3 people! And since many planes, trains, and buses are now equipped with Wi-Fi, commuters can point, click, and gift in route.
Another challenge of gift giving when your time at home is limited is keeping it all a surprise. Once you've purchased the gifts, how do you make sure no one is peeking? Keep those presents a secret by shipping gifts to your neighbor's house or use an Amazon locker. Available in some US cities, your package is sent to a secure location and will stay there for up to 3 days until you can pick it up. A nice feature, especially when news reports about "porch pirates" are becoming more frequent.
4. Plan vacation time for the New Year
Reconnecting with loved ones in meaningful ways is an extremely important part of maintaining all types of long distance relationships and can go a long way in helping cope with a super commute. I had the privilege of being interviewed for an article about couples who commute and contributed to 5 tips on coping with a marathon commute to work. Here are the main points and you can read the details of each at http://www.today.com/money/5-tips-coping-your-marathon-commute-work-t40851
Get regular exercise and rest
Eat healthy
Make time for mental downtime
Stay connected with friends and family
Reconnect with loved ones after extended commutes
5. Logistics and scheduling
Logistics and scheduling can be tricky when you are frequently apart.  It may sound silly, but I recommend that you set aside some time over the holidays to plan more time together. Using an online scheduling program that you all have access to, or if you like to do things the old fashioned way, print out all 12 months of the new year, and together look at each month, entering events you know are happening. Don't forget school vacations, any weddings or reunions, tournaments, visits from relatives, and those holidays that some people have off and others don't. Planning ahead in this way also gives you plenty of lead-time to try and get the best deal possible on airfare and hotels. Most importantly, making a conscious effort to designate time together at the start of the year helps insure you WILL have that quality time together. Life, especially with children, gets busy quickly and weekends fill up fast.
In the U.S., long-distance marriages increased by 23% between 2000 and 2005, according to census figures analyzed by the Center for the Study of Long Distance relationships. In 2005, roughly 3.6 million married people in the U.S. lived apart for reasons other than marital discord, the center estimates. – WebMD.com
No matter what holidays you and your loved ones celebrate, ideally those days are filled with laughter and memory making. Use the holiday season to strengthen your love and connection.  Managing expectations, incorporating strategies for lowering holiday stress, and planning time together are three ways to help make that happen.  Physical separation doesn't have to mean emotional distance for super commuter couples or couples in long distance relationships.
If you'd like even more tips and advice and want to learn how other couples around the world are having successful long distance relationships and managing super commuter lifestyles, you can read their stories (and mine) in my book Super Commuter Couples: Staying Together When A Job Keeps You Apart.  You can find it here at Amazon or at your favorite bookseller.  Available in both paperback and ebook formats. Happy Holidays!